Welcome to Mysticlink.com
Veronica's Books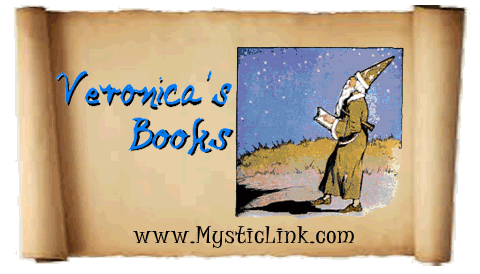 Welcome to the home of Veronica's Books, your Mystic Link to rare and out of print books on the paranormal, occult, UFOs, and other metaphysical studies. Please search, or browse our inventory by catalog for hard to find, used, and rare books.
Browse Our Shelves
If you are interested in researching the deeper mysteries of life, you will find much to enhance your studies here at mysticlink.com. We offer a substantial inventory of hard to find books in all areas of metaphysical research. Among our largest browsable catalogs are rare and out-of-print books on UFOs, E.S.P./Psychic Phenomena, Occult, Spiritualism, Alternative Health, New Age, Consciousness, and Conspiracy.
New Featured Selections
Scroll down the page to see our most recently added items!
We would be happy to email you actual photos of any of our books upon request, as well as answer any specific questions you may have about them that are not listed in the description.
Though we specialize in metaphysics, we also have growing catalogs in other non-fiction areas such as Psychology, Religion, War & Military, Sociology, and Science.

We also make extensive use of keywords in our book descriptions. If you would like to narrow your search to specific keywords such as 'Radionics', you may find this option most helpful.
Customer Benefits 
We are a customer friendly online bookstore and we welcome both orders and inquiries by phone (253)851-7788 or email ([email protected]).   If you are interested in specific subjects or authors and would like to be notified of new arrivals, simply fill out our Off-line search form with your special requests and we will notify you when they become available.
A few words from our customers. . .
"...you can't imagine how surprised and pleased I was to recieve the valued collection within a couple of days instead of a couple of weeks. Thanks for the wonderful service and the joy of recieving this books."  Anke
". . ."Excellent! I am somewhat concerned about buying online after recent bad experience(s) on Amazon and Ebay. But people like this help renew my faith. Thanks! Would purchase from again." Raymond
". . . book was exactly as described and the wrapping and packing for shipment was excellent."  Craig B.
"...I have received the books,they are wonderful! What a beautiful and powerful set of books!"  Matt
". . .The book came today, and it is absolutely beautiful.  I have never actually seen a volume of this book before, and I had no idea that it was so elegant . . ." Scott W.
". . .My book arrived in the absolute best condition and I attribute this to the Seller. Thank you so much for taking such good care of your merchandise for sale. It also arrived in the allotted time frame. Seller Recommended AAA+++" J. Baker
". . .I was so happy to find the book you are sending.  This book saved my sanity back in 1976.  I'm curious to see what . . . seemed so powerful to me."  Jean K.  
I am thrilled with the condition of the book and the way it was packaged for posting."  Pamela
"...The book arrived in great condition due to your careful packaging.  I want to thank you for all your help with this purchase."  Fred
"...I wanted to thank you so very much for your thoroughly excellent service. I was delighted with the condition of this book and also with the fact you put a plastic cover on it."  Toni
Shipping
We ship worldwide via United States Postal Service.
Standard rates for orders within the U.S. are:
MEDIA MAIL (4-10 days)$4.50 for 1st book, plus $1.50 ea addt'l. PRIORITY (2-3 days)$8.50 for 1st book, plus $2.50 ea addt'l.
International Rates:
STANDARD (4-6 weeks)$35.95 for 1st book, plus $10.00.00 ea addt'l. AIRMAIL (5-14 days)$40.50 for 1st book, plus $11.00 ea addt'l.

***Note for Int'l orders: These rates are based upon an average book weight of 2.2lbs. On occasion, over-sized books or multiple-item orders may require additional charges, or qualify for reduced rates. In either case, an email will be sent notifying you of the reduction or request for actual shipping costs with options. If you are ordering multiple books and want a more accurate rate prior to purchase, please contact us and we will advise of the exact total for your order.
NOTE:  Due to the recent complication of international tax requirements by country and the limitations of online calculations, all international orders are sent DDU(Delivery Duty Unpaid) and may require payment of duties and/or customs fees at the point of delivery. This process varies by country, please check your import regulations prior to purchase. 
Delivery times are estimates only and do not include any delays which may be incurred in passing through customs.
A proud member of Global Book Town